The Motivation
Living in a small appartment with balcony since 2005, I never thought of going on the air from here. I tried it in the beginning and what I heard was disillusioning. A lot of noise and two stations I could not reach. So no further attempts to get on air from here.
After being at home for a while due to the COVID-19 restrictions, I tried it again. I grabbed some antenna material I could get from the basement storage and build some aerial I could connect to a coax cable.
The first station I could reach was KC1XX in New Hampshire, USA on 20m. After 5 hours I had worked all continents on 40m!
This installation is only temporarily for weekend activities. After the first success on the weekend of the Russian DX Contest 2020, more activities should follow.
My special thanks to my wife Anja letting me installing the antenna and running the coax cable through the living room.
The Station
Elecraft K3 transceiver + automatic tuner :: 100 Watts output :: MK2 interface :: DXLog / Win-Test
The Antenna
The neighbourhood of the antenna.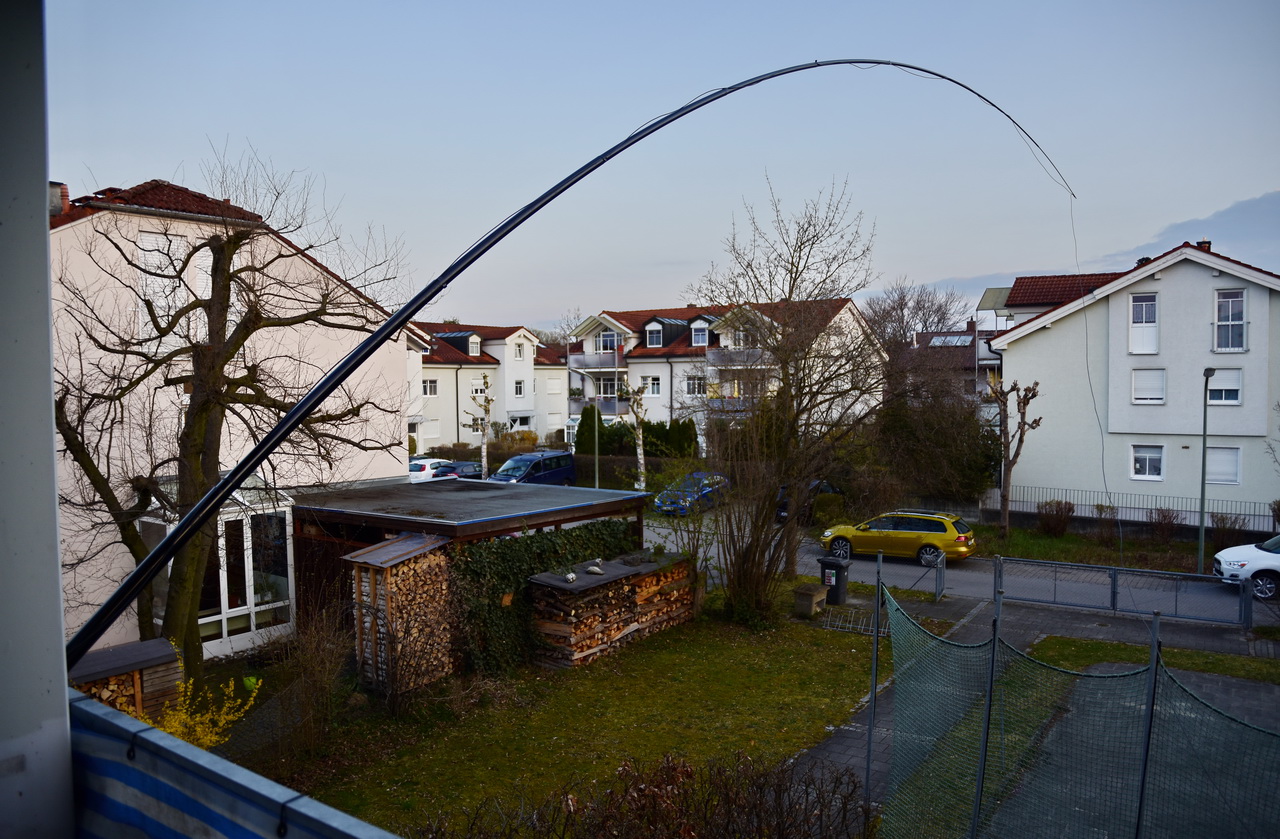 Spiderbeam mast 12m long :: 20m of wire :: DX-WIRE choke balun :: RG58 coax cable
The feeding point of the antenna. The far end of the wire is just returned to the other end of the balcony.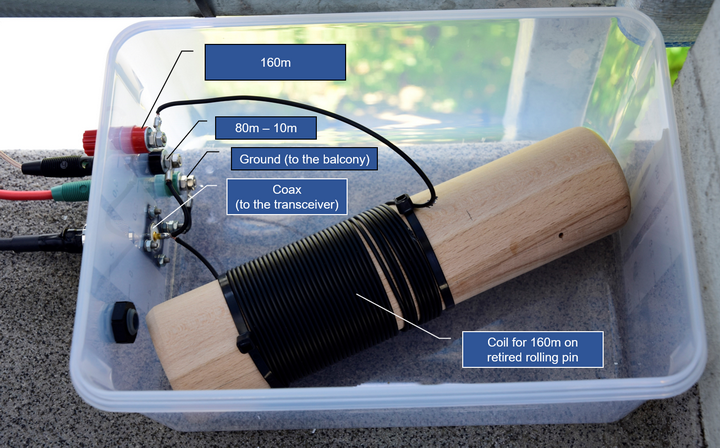 The tuning and connection box of the antenna.
The Statistics
As of 28 November 2022
Some explanation:
QSO Radio contact
CW Morse telegraphy
SSB Voice
RTTY Radio Teletype (the email from the second to last century)
160m, 80m, 40m, ... Different frequency bands radio amateurs are allowed to use.
DXCC Countries in radio amateur world. There are currently 340 of them. To earn the DXCC Award, you need radio contacts with at least 100 different countries.
FT8 (and related modes) A mode that was invented especially for communication below the noise level. To be used mostly by small stations. Though this mode would be perfect for my setup to reach much more stations/countries, it is still boring to operate as only two computers communicate with each other. So I still prefer morse code, radio teletype and my own voice, where the operator is required to do most of the work.

QSOs (radio contacts)
| | CW | SSB | RTTY | QSO Total |
| --- | --- | --- | --- | --- |
| 160m | 1.040 | | | 1.040 |
| 80m | 2.012 | 135 | 895 | 3.042 |
| 60m | 2 | | | 2 |
| 40m | 1.440 | | 573 | 1.835 |
| 30m | 38 | | | 38 |
| 20m | 1.195 | 2 | 319 | 1.516 |
| 17m | 26 | 2 | | 28 |
| 15m | 683 | | 70 | 753 |
| 12m | 3 | | | 3 |
| 10m | 265 | | 2 | 267 |
| Total | 6.704 | 139 | 1.859 | 8.702 |
DXCC countries
| | DXCC |
| --- | --- |
| 160m | 59 |
| 80m | 77 |
| 60m | 2 |
| 40m | 85 |
| 30m | 27 |
| 20m | 115 |
| 17m | 20 |
| 15m | 89 |
| 12m | 3 |
| 10m | 62 |
| | |
| MIX | 134 |
| CW | 131 |
| SSB | 10 |
| RTTY | 71 |
Farthest distance: ZM4T (40m CW) :: New Zealand :: 18.480 km
Worked All Continents
| | Africa | Asia | Europe | North America | Oceania | South America |
| --- | --- | --- | --- | --- | --- | --- |
| 160m | X | X | X | X | | |
| 80m | X | X | X | X | | X |
| 60m | | | X | | | |
| 40m | X | X | X | X | X | X |
| 30m | X | X | X | X | X | |
| 20m | X | X | X | X | X | X |
| 17m | X | X | X | X | X | X |
| 15m | X | X | X | X | X | X |
| 12m | | | X | | | |
| 10m | X | X | X | X | | X |
Worked All States (USA)
AK AL AR AZ CA CO CT DE FL GA HI IA ID IL IN KS KY LA MA MD ME MI MN MO MS MT NC ND NE NH NJ NM NV NY OH OK OR PA RI SC SD TN TX UT VA VT WA WI WV WY